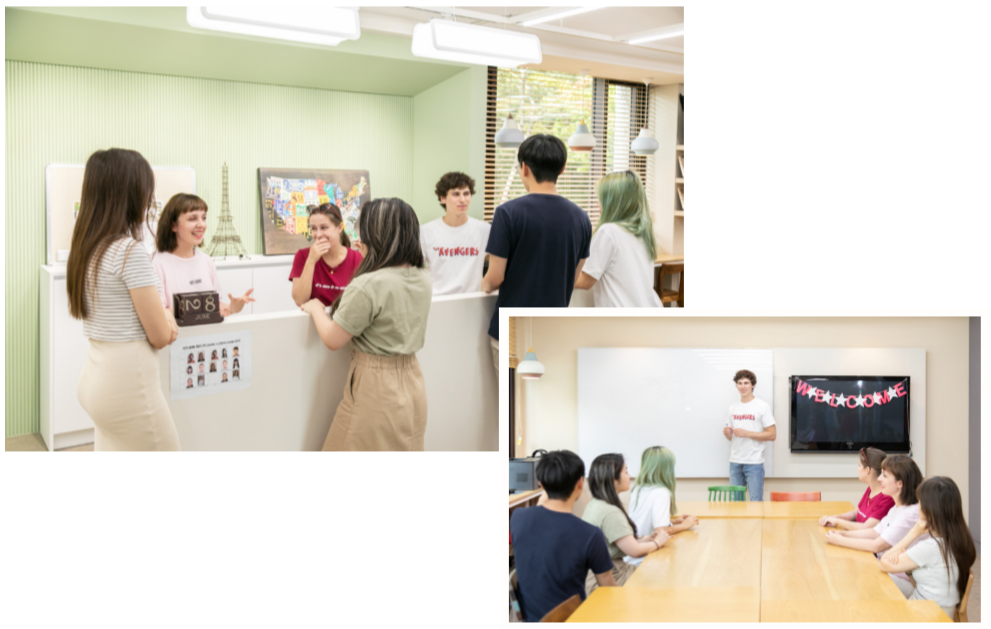 Introduction
The Global Lounge is a place where international students and UOS domestic students can get together to exchange languages and cultures in a free and fun atmosphere. International students can also get scholarship as a Global Lounge Assistant (or a Global Lounge Language tutor) here.
Location: #101, 1F, Cheonnong Hall.
Opening Hours:
Spring semester: March to June
Fall semester: September to December
※ It will be closed until further notice due to the instruction of UOS headquarter. We will notify you of further updates by email.
Hours: 10:00-17:00 (Lunch break 12:00~13:00), Mon ~ Fri
Facilities:
Computer (Internet connected)
Tables & Comfortable Chairs / White board & board marker
Book (travel, language and so forth) / board game
Work as a student staff with IICE office:
A Global Lounge Assistant is enthusiastic about teaching their mother language and sharing their culture with domestic students.
Global Lounge Assistant's Role
Take the key from the IICE office and open & close the Global Lounge by the designated time.
Have a free conversation with visitors
Make the Global Lounge facility clean and comfortable.
Arrange the weekly events management.
Global Lounge Language Tutor's Role
Prepare the weekly talking topic for domestic students throughout the semester
Teach your 1st language to domestic students
Keep regular teaching hours on a weekly basis.
Have a language session with domestic students in the Global Lounge.
In general, it is not allowed to have a language session out of this location. But it may be conducted through online platforms depending on COVID-19 situation.
Use the language book or other materials in the Global Lounge
What are the pre-requisites for a Global Lounge Assistant/Language Tutor?
Successful candidates must be able to commit time to Global Lounge activities.
Candidates should have the necessary skills such as active listening skills and questioning skills to play their roles efficiently.
Organize cultural events to introduce your culture/university in home country to the domestic students throughout the semester
Application:
This will be provided before starting the semester via email
※ Depending on the situation related to COVID-19, activities in the Global Lounge can be suspended.